Testimonials from ZeroPoint Global Product users who share their results from using the Zero Point Products. These are amazing tools that help your body achieve optimal health.
Pendant-Laser-Oil Vera


Feet and Back Issues
Pendant and Red Laser


Chronic Insomnia and Bladder Infection
Frequency Disc and Oil Vera


EMF Protection and Restful Sleep
Zero Point Red Laser


Clear Meridians and Stress Relief
Red Laser and Citrus Silk


Chronic Back Pain
Mint Matrix Oil Vera


Stress Relief and Stomach Issues
Frequency Disc and Red Laser


Hip and Back Pain
Zero Point Intention Disc


Emotional Trauma and Stress Relief
Severe Allergies, Mint Matrix & Red NaturaLaser
"I have suffered with severe allergies my whole life. Come fall especially, I would hide from the outdoors. Often missing school mornings, as I would have trouble with swelling in my eyes. When the allergies would get bad, I would have to sleep sitting up at night. I used prescription allergy medicines, got shots, and would still take two or more over the counter allergy drugs to try to cope. All along knowing these drugs had affects on my health, and not even getting full relief. This last spring I found the ZeroPoint tools, and this Fall has been like a whole new life. I have used the Mint Matrix Oil Vera Wellness Solution, applying it to the tips of all of my toes and a small amount on my face over the sinus areas. Then I would use the Red Naturalaser shining it for a minute at the areas where the Mint Matrix was applied on my toes, then another minute over the area the Mint Matrix was on my face. The first time I did this I was blown away by the immediate relief of the pressure in my head! And I Could Breath! I continued to repeat this process when I felt under attack by the allergies again. Now at first I was just excited that I could get relief like never before and no worries about the negative effects of the drugs. But as the season went on it got better. I found I was going longer and longer with relief and could enjoy staying outside. As I have kept doing the process I find now that is more like I don't have allergies. So its like having a new life! Thanks."
– Shimon L., MO
Citrus Silk & Sore Knees
"I have recently started working out at the gym. My knees would feel uncomfortable during my workout. Being 48 years old and wanting to protect my knees I use the Citrus Silk on them every time before going to the gym. Now my knees feel great during my workout and there is no more discomfort. " – Brenda G., VA
Mint Matrix & Yoga
"I usually wear my ZeroPoint pendant during my yoga classes, but I decided to experiment with the oils after they were launched. I put 1 drop of Mint Matrix on most of my major energy centers (sacral chakra to crown chakra) before starting my yoga class. I immediately noticed a burst of energy after putting in on (surely helps after a long day of work). In addition, I noticed enhanced flexibility, strength, focus, and balance. I had an amazing practice despite not going to class for about a month. Now, I add 2 sprays of Citrus Silk to my face for an extra boost (and, because I love the smell)! While wearing the pendant and the oils together is better, the oils definitely stand well on their own!" – Velvet C., RN
NaturaLaser & Impulsivity in Children
"My son is seven years old. He is highly active and highly impulsive. I had been trying everything since Kindergarten but the phone kept ringing with messages from his teacher and school social worker. "He need something to help him settle, Have you had his hearing checked, is he getting to bed at a decent hour?" I had developed behavioral plans for him both for home and at school. His teacher would say she could redirect him up to twenty times in ten minutes. I wanted to exhaust all options before considering medications. I am a teacher in an Emotional and Behavioral Disorder classroom. I should know how to handle this.Well my good friend, who just happens to do energy healing, turned me on the the Natural Red Laser. I would wand his ears, base of his neck and tongue every morning and then he would wear the pendant to bed every night. My son has had 15 straight days without as much as a warning. His self esteem has jumped so high, his interpersonal relationships are back on track and he is learning! I am so new to this I can't believe it myself, but I have recommended it to several parents and they know I believe in it now! Thanks so much for saving my son's school career! Keeping it fun and worth while. " – Kristie M, MN
Oil Vera & Facial Cyst
"My sister had a cyst on her face. I offered her a combination ofMint Matrix and Citrus Silk in a smaill bottle and asked her to put a drop on her cyst 6 times a day. I am happy to report that after 10 days her cyst is gone. Surgery was avoided, and she is absolutely delighted and wants more Wellness Solutions. " – Aria J., MO
Citrus Silk, NaturaLaser & Accident Pain
"I was walking across the kitchen floor to answer my phone…slipped on some water and fell on my knee and hand very hard. I used the NaturaLaser on my knee and hand until the pain subsided, which was about 2 minutes. Then I applied the Citrus Silk. There was no returning pain and no bruising." – Brenda G., VA
NaturaLaser, Frequency Disc & Pre-Cervical Cancer
"My 20 year old daughter had what is called pre- cervical cancer and was having biopsies of her cervix every 6 months as long as the pre cancer cell count was high. This procedure is extremely painful and has her bed ridden for 3 days after.
One week prior to her next biopsy, I received my ZeroPoint products, and with her approval, started daily treatments. I would NaturaLaser the area for 5 minutes every day, and while watching tv, would rest the Frequency Disc on her abdomen as well as sleep with it in her bed.
A week later, she had the biopsy. When the results came back, the pre-cancer count had all but disappeared. That was nearly 2 years ago, and she has not had to have another biopsy since. Thank you ZeroPoint!" – Dee R., CA
Intention Disc, Sodalite Window Pendant & Sciatic Pain
"This experience was my own personal "miracle". I'll try to tell it with as few words as possible. This occurred in January, 2011 after using these products now for almost two years on a daily basis. I had just gone through a very uncomfortable detox of my gastrointestinal system after a healing session with a local practitioner. All good, but uncomfortable. I had been in bed for the most part recuperating for a couple of days and while in bed, my legs started to ache a bit but nothing terrible.
Then I started having sciatic type pain down the back of my right leg, again first an ache and then after a day or so it evolved into a very acute, sharp pain. This pain came and went without warning and when it was present, I could not find a comfortable position. I had never experienced this before as whenever I had any small discomfort in my low back, I would use my Red NaturaLaser and my Frequency Disc and it would shift very quickly. I used all my tools to shift this but nothing seemed to help at first. I had an energetic healing session and a massage and that didn't seem to help either, and the pain continued to come and go without warning. After relatively no sleep for three or four nights in a row and no relief, I had just about had it.
And then I got very quiet and asked this pain what it was about and finally was able to connect to it with clarity. I sat with my Intention Disc in one hand and my Sodalite Window Pendant in the other and I affirmed that I was complete with this issue, I breathed into the pain deeply and with gratitude and did a ho'oponopono ceremony while I held my tools and literally within seconds, the pain lifted and never returned! I was amazed and incredibly grateful.
I have been a facilitator of healing using vibrational healing techniques and tools since 1994 and I had never experienced a pain or a personal healing like this before. I had been using the Intention Disc and Sodalite Window Pendants for myself and with clients since they were available for purchase for emotional clearing with wonderful results. But, this was the most profound healing experience I have personally had. I hope that by sharing this testimonial, that someone else benefits from these wonderful tools!! With blessings of gratitude." – Ilene G., R.N., FL
Citrus Silk, NaturaLaser & Moles
"My body underwent a spontaneous detox over a 15 month period, leaving me with two rather large moles on my face–one on each temple. The mole on the left side was the size of a pea while the mole on the right side was the size of a marble–very disconcerting. Over a 4 month period, twice daily applications of Citrus Silk followed by an intensive 20 minute Red Naturalaser treatment slowly decreased the size of the moles until pea-sized one is barely a raise area on the skin while the marble-sized one has completely disappeared. What an amazing relief! Thank you, ZeroPoint!!" – Ted P., NJ
Citrus Silk & Healing Sun Damage
"Oil Vera Citrus Silk has made a welcome difference to the skin on my face. Damage from years in the sun and recent surgery to remove basel cell skin cancer from my lower eyelid has certainly taken it's toll. Both my Dermatologist and Plastic Surgeon have commented on how well and quickly I healed after having a substantial portion of my eyelid and surrounding skin removed . But of course I did. I started to use the Oil Vera on my face, particularly on the eyelid prior to the surgery and after to ensure healing was prompt and flawless. And it was! In addition, my skin looks brighter and feels wonderfully smooth." – Andrea B. NJ
Citrus Silk & Neck Pain
"I spent last weekend in a beach house in the Outer Banks of North Carolina. Sleeping on a bed that was firmer than mine left me with a sore neck when I woke up. After taking a shower and going thru my normal facial routine starting with the Citrus Silk, I decided to apply some to my neck and shoulders. Within minutes. after applying the Citrus Silk, my body started to sound like Rice Crispies. It seemed to adjust my whole body, and then the pain was gone." – Brenda G., VA
NaturaLaser & Tooth Pain
"I've always had a history of soft teeth, so I've lost a few and have had all kinds of problems in my mouth. At the age of 53, I recently received partials, top and bottom. They always hurt when I put them in. That's when I use the Red NaturaLaser, which quickly and miraculously calms the owee." – Mark T., CT
Mint Matrix & Joint Pain
"Due to a family illness, I was unable to go to the gym for eight months. When I began working out again, whether it be at the gym or long fast-paced walks, my body was sore especially my knees and hip joints. I applied Mint Matrix to these areas after the activity and the soreness went away quickly. It worked so well afterward, I experimented with applying Mint Matrix to my knees and hips before my 3.5 mile walk and it really made a difference. Mint Matrix is now part of my morning routine. If I forget to apply before my walk, my joints feel the difference! Love my ZeroPoint oils!" – Doreen Z., FL
Oil Vera & Under-Eye Circles
"I faithfully apply Citrus Silk and Mint Matrix to my face. I now have added the NaturaLaser to my routine. I do attribute these products to the removal of dark circles and the improvement of puffiness under my eyes. I receive many compliments for not looking my age." – Wenda C., PA
NaturaLaser & Hand Injury
"While setting up the space for an event, my left index finger was pinched by a teak folding chair. The pad of my finger immediately swelled and a large, dark purple blood blister formed. I carried the chairs into the elevator and pushed the "3" button. As the doors closed, I pulled the green NaturaLaser out of my pocket and shined the light directly onto the injury. The bell rang, doors opened, and I put the laser back into my pocket. Looking down at my finger, I was absolutely stunned to see that the swelling was down and the purple bruise was now just an 8th-inch line. When i applied pressure to the wound, there was no sensation of pain. I am astounded at the immediate cellular response to the NaturaLaser in this situation." – Ted P., NJ
Oil Vera & Appetite Suppression
"I've discovered that one drop of Mint Matrix under my tongue acts as a hunger suppressant. A few days ago, my stomach was rumbling, and I had no immediate access to food. I place a drop of the Mint Matrix under my tongue, and the hunger went away for about a half hour!" – Marcia G., VA
Oil Vera & Sun Spots
"My husband has been using Citrus Silk Oil Vera on his moles and sun damage spots on his face, and we can both see a huge difference in how they look – much lighter, and his skin has a glow about it. I also used the Mint Matrix Oil Vera on my feet at night before going to bed. I frequently have severe cramps. Since using it, I have had no cramping and have slept very soundly. Thank you so much!" -Edi M., AZ
Oil Vera & Spinal Alignment
"I did a presentation on the new Oil Vera products, and asked for a volunteer with chronic back pain. Walda volunteered. (I guess her to be in her mid-late sixties.) I muscle tested her spine at the beginning, and she had 5 thoracic vertebrae out of alignment , as well as her left hip. I placed one drop of Mint Matrix Oil Vera at her C-7, and one drop on her sacrum. I told her to sit down for a few minutes, and wait. After about 4 minutes, I asked her to stand again to be rechecked. As she stood, the group could see that she was standing erect, and she took a very deep breath. All of her spinal vertebrae were in alignment, but her left hip was still out. I then used the Red NaturaLaser on her spine and hips for about two minutes. Her hips corrected immediately upon treatment with the NaturaLaser.
The whole group purchased a Citrus Silk and Mint Matrix Oil Vera.
Thank You ZeroPoint!" – Penelope T., MD
Citrus Silk & Fingernails
"I followed the suggestion from the Virginia Beach Momentum Event to apply Citrus Silk to fingernails and toenails. Since applying the Citrus Silk, I've noticed my nails looking nicer and how clear they look (no moon or white spots in my nails). My daughter noticed that the ridges in my nails are gone. I have a single black line going down one thumb and on my big toenail, and both are getting lighter in less than two week's time." – Wenda C., PA
NaturaLaser & Torn Rotator Cuff
"Last month, I tore my rotator cuff while painting my new home. I was in great pain when my friend came over to my house and gave me a NaturaLaser treatment for about an hour. The next day, I was amazed at the relief I was having. I just had to have the NaturaLaser for myself and my family. Then, when my order came, I began to wear the Pendant as well as use the NaturaLaser. I am healing rapidly and don't think I will have surgery. I will always wear the Pendant. Thank you so much." – June T., GA
Sirius Balance & Emotions
"Wearing the Sirius Balance Pendant, I notice a general feeling of being more centered and happy. It seems everything I set myself to do is achieved at accelerated rates. When an emotion comes up, it comes up quickly but that's not to say I have felt more emotional; rather the emotion is there, but I can perceive it as a thought and can remove myself from it more easily. Then I can decide how I want to work with it or change it. And the process of changing or creating is much easier – almost like playing a fun game. Also, my visualization and meditation have been enhanced. Over the time I have had the pendant, I have also noticed that I more quickly see things from the reality that I am energy, I am frequency, and that the physical is more the illusion." – Simon L., MO
Sirius Balance & Expansion
"I have one word for the new pendant – expansion." – Dr. Gould, MD, FABFM, FIAMA, GA
Sirius Balance & Future Medicine
"The new pendant is ready to release … it makes sense the frequencies adjust for the individual, otherwise it is what we do now, one pill for all. This is medicine from the future." – Dr. Kolb, MD, FACS, GA
Sirius Balance, Energy & Nutrition
"My experience has been to realize greater balance: Initially I sensed more calmness, awareness and being more centered. Lately I have enjoyed more energy and an increased ability to see things with more clarity. I have reduced the nutritional supplements that I usually take with none of the uncomfortable symptoms that typically happen when I don't take them, especially when I eat certain foods." – Gloria H., CA
Sirius Balance & Interaction
"I am enjoying the Sirius Balance Pendant – I feel more confident in every way and very balanced. I can make good decisions quickly. I am able to control my emotions. I instinctively know things and can be detached from outcomes. As I can sense where people are coming from, I find I am more gracious in dealings with others and know that what I see is not my issue, but theirs. I am grateful for the opportunity to test this product." – Edi M., AZ
Sirius Balance & Libido
"I am post-menopausal and had been having quite a decrease in sexual energy. Since I have had the Sirius Balance Pendant, it seems as if 'my mojo' is coming back so…increased sexual energy. And want to say that…increased manifestation on every level." – Aria J., MO
Sirius Balance & Intuitiveness
"I have found since I have the Sirius Balance Pendant on, my intuitiveness has definitely increased. I'm sure that there are more things going on that are subtle but I haven't really identified them.
I let my massage therapist in the office wear it for a day and she can see colors of people's aura's more vividly and consistently, and it's continued without wearing it again.
I have found that I sleep better taking it off and my mind is able to settle into a restful state more easily." – Dr. Yeager, D.C., AZ
Sirius Balance & Feelings of Purpose
"When first I received the new Sirius Balance Pendant, I felt a peace and stronger sense of purpose – I referred to it as the 'all's well bell'. A few weeks after receiving the new pendant, I experienced a gathering of deep grief in my chest and heart, followed by a release of soulful age's old grief – it was an emotionally painful experience and passed within an hour or so. I am more playful and joyous in everyday life since then. My digestive system has changed. It has improved and toxins are being eliminated easily from my body. I discovered that lingering imbalances shift when the Sirius Balance Pendant was exposed directly to the area for a few minutes." – Lorraine E., ME
Sirius Balance & Peace
"From my personal experience, I immediately felt more peaceful. Baggage from stored emotions came up for getting rid of faster, and the awareness of the process allowed me to ride through it without re-stuffing again. My digestive system noticeably changed. My dreams became more specific and remembered. I aligned with my personal power and attracted more abundance to my financial situation. Unexpected miracles came, and now I expect miracles daily… and get them. When I let other people hold my pendant, they get something different according to their needs. Some people do not notice anything at first, while others feel ripples of energy flow through their body, but the one main comment everyone says to me is how much PEACE they feel while holding the pendant." – Lynne O., PA
Pendant & Spinal Scan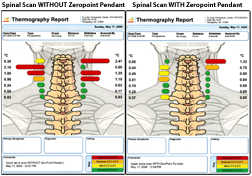 "I had a table presenting and demoing the ZeroPoint technology at a holistic expo in Rockaway, NJ. At the table next to mine was a chiropractor who was doing spinal scans to illustrate how out of balance people are.
He saw me doing several balance tests (aka: Toy Soldier Test) and thought that it was the most ridiculous thing that he had ever seen. I explained ZeroPoint's quantum frequency power and effects, and all he could do was laugh. He proposed that he perform "before" and "after" scans of my spine so that he could prove to me that the ZeroPoint pendants had NO effect on the body whatsoever. I gladly accepted.
Removing my pendant, I sat in his guest chair and let him roll his thermal reader down my spine. After he had finished, he showed me the scan on his computer screen pointing out the red bars indicating severe stress. I then put my pendant on and he immediately began the "after" scan. Not knowing what his computer would show, my mantra was 'Oh, please work. Oh, please work.' When the scan was revealed, his words were 'Holy ____! It works!' He printed out both scans and said: 'Well, now you have scientific proof!'." – Ted P., NJ
Oil Vera & Green NaturaLaser & Growths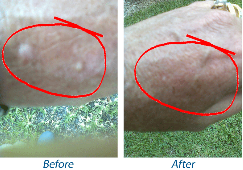 "I put Citrus Silk and Mint Matrix Wellness Solutions on my hands everyday, twice a day. Sometimes more, but for the most part twice a day. I would then use the Green NaturaLaser on my hand for an average of two minutes twice a day, again, sometimes more. It took me about two weeks to get rid of the growths I had on my hand.
I had one on my arm also that I worked on also. It was a little harder. It had been growing on my arm for 4 years. I used Citrus Silk and Mint Matrix on it when I did my hand. It was the size of a nickel! I got that down to half the size it was, then I had a dermatologist appointment, and he ended up taking the rest off, but it also is great testimonial on the wonders of Oil Vera Wellness Solutions. In the After picture, as you can see, there is only a little redness that eventually went away. My dermatologist said these were growths from too much sun exposure. I used Mint Matrix and Citrus Silk along with the Green NaturaLaser. The products are amazing!" – Natalie H., FL
Citrus Silk, Eyelid Growth & Crows Feet
"I started using the orange Oil Vera in February 2x daily- morning and evening. I was using it as a skin moisturizer, 3-5 squirts on my hands and then applying it to my face. I would then use an extra squirt on my eyelid, as I had a growth in the corner of my bottom lid that had been there for about a year. Within a couple of weeks I noticed that the growth was getting smaller and within 6-8 weeks it was completely gone! It did have one side affect, however- my crow's feet went with it! I was amazed when I realized that the crows feet on the eye to which I was applying the extra drop had completely disappeared. I can't wait for the other side to catch up!" – Freda P., FL
Green & Red Naturalasers and Ears
"About a week ago, I awoke about 3AM. My right ear was in great pain, including my right jaw & right throat area. I quickly used the red & green naturalaser in my ear, on my jaw, & throat areas: Directly into & around the ear, throat, & into my mouth for about 10 minutes. In 1 hour I repeated same. By 6AM, all pain was gone, except for a slight pain in throat area & that was gone by the end of the day." -Reuben S., NC
Red Naturalaser and Mouth Ulcers
"I keep biting my inside cheeks. Last summer I had two large ulcers that formed by me continually biting them. I had to have them surgically removed and it cost me $300.00 each. I bit my cheek last month and I used the red Naturalaser on the sore and within a few days, no sore – all gone. I am truly amazed at the many uses these ZeroPoint products provide. I keep experimenting and wouldn't be without them." – Glory L., MD
Intention Disc & Sodalight Window Pendant and Subconscious Trauma
"Before going to bed, I held the Intention Disc in my left hand and the Sodalite Pendant in my right hand and then said out loud, this is to clear all and any childhood traumas in my life. Then as instructed I just laid there and all of a sudden I saw these pictures of things that had happened going from one age to another. It was so amazing. I was seeing myself as an infant but did not see any trauma. I could see other things at all different ages. As this was happening I noticed that I was releasing gas and not in the way that we usually release gas. I knew something was really changing. Then I drifted off to sleep. I slept well. The next day I felt very good. But something very unusual happened; I got up and had a very good elimination and later that morning it happened again. Naturally, I felt very good." -Lisa P., CA
Mint Matrix and Back Pain
"My lower back went out again Sunday, April 25th and the shooting pain was about an 8. My back would go "out" each year when I work in my gardens and this time it wasn't as bad. I used the red and green lasers and did Matrix, Reiki, Yuen and had energy treatments. I got through the week teaching piano being very careful not to move too much Yesterday and today I was feeling better and I would say the pain was about a 3.
During the Zero Point meeting tonight I tried to reach for something and felt the pain in the lower back… and a few minutes later my friend put a drop of the Mint Matrix on my lower back and I rubbed it in. Within a minute I attempted to get up out of my chair and there was absolutely NO PAIN at all!!!!! They said my face glowed with excitement. Here is it four hours later and no pain. I can bend backwards, forwards and it is like my L4 and L5 disk pain disappeared. When you experience an abrupt release of pain like this, you know there is something to these Zero Point Global products. You can be assured that I will continue to experiment with these oils and products. I am happy to be with the Zero Point Global Family! Magical Blessings" – Gloria L, MD
Intention Disc & Sodalight Window Pendant and Organ Memory
"I decided to release specific organ memory using the Intention Disc & Sodalite Window Pendant technique. I did it by placing the ID & SWP on the area of my body near the organ or endocrine gland and saying "release any emotional trauma, incoherent frequencies, in the spleen." And did, liver, large & small intestines, stomach, pancreas, thymus, thyroid, lungs, & heart.
At each location I heard the 'gurgle' of the shift and in most cases felt a sigh release as the organ or endocrine cleared. As an energy medicine practitioner I know that we often experience a release as a sigh, a yawn, a gurgle in the tummy or as an urge to take a breath.
This morning I have not been able to get off the toilet! Had several bowel movements, all normal, fully formed. I learned years ago in my energy medicine classes that we release 'stored' energy from traumatic occurrences, that weren't processed at the time of the event, through our intestines – that's how old trauma leaves the body. Guess this technique helped me get rid of a lot of old trauma!" – Lorraine E., FL
Intention Disc & Sodalight Window Pendant and Childhood Trauma
"I held the Intention Disc and Sodalite Window Pendant and I felt my hands, feet, and legs tingling. Then tingling moved up my spinal column to my brain. The energy shot back down to my tail bone, and I felt a pop. The tears started to roll down, and the thought was, "you are not good enough." I thought to myself, I am 65 years old, and I am dealing with this thought of unworthiness? I guess all trauma stays in our bodies in places we have no idea where they are hiding. Who knows what else is hiding or lurking in our bodies, mind and spirits. That inner child that was damaged wanted to heal and be free to play, and enjoy life to the fullest, and now she can!
To say thank you, to all of you at Zero Point Global, is not enough for the changes that are going on in my life since these products have been introduced to me. I am focused in making this a number one priority to use and to share for the rest of my life, and become healthy, wealthy and much wiser." – Lani C., CA
Earth Hearts and EMF Sensitivity
"I have severe chemical and emf sensitivities and become ill when I use my laser printer. I now have earth hearts on the printer and put one large disk on top of the printer and one under the printer and I am able to tolerate it and not become ill!" – Barb S., MN
Earth Hearts and Cell Phone Radiation
"Over the last 10 years or so, I noticed that on the bone behind my ears as well as other areas of my skull felt like they were bruised when I touched them, and I was getting terrible headaches periodically. The pain to the touch had gotten to the point that it was always there. It didn't occur to me that it was from my cell phone, but I did purchase a cell phone protection device. A year later, the pain was still there with the same intensity. Last year, I put the ZeroPoint Earth Heart on my phone, and I noticed that the pain was completely gone, my headaches were gone, and several months later, they still have not returned!" – Lisa L., FL
Earth Hearts and EMF Radiation Sickness
"I have Earth Hearts on our cell phones, computers and a few other electrical things in my house. I have always been sensitive to the electromagnetic frequencies (EMFs) put out by electronics and sometimes have felt nauseated because of the harmful energy these devices emit. With the earth hearts I felt an immediate lessening of my EMF induced symptoms. When I'm on my computer the energy I feel from the computer is now much more gentle. I don't use my cell phone enough to really notice a difference, but I do feel reassured when I place my phone in my pocket that I am being protected from the waves being emitted. I even put an Earth Heart on my ipod and feel much more relaxed about using it, as it clips onto your clothing and sits next to my body as it plays. The small size of the Earth Hearts makes placing it on tiny devices easy and discreet. I can't wait to get more hearts and put them on the other electronics I use on a regular basis." – Dakotah D., KS
Green NaturaLaser and Tooth Root & Gum Pain
" I had a very painful upper tooth. The gum was swollen and I couldn't chew on that side of my mouth. I shined the Red NaturaLaser directly on the tooth and the gum for about 3 minutes and got relief from the pain. The pain returned every few days and I did the same thing but for longer periods and got relief each time. I know that when symptoms return the real cause of the imbalance has not been addressed and the ZeroPoint scientific team said the Green Naturalaser could address deeper imbalances, on an organ or endocrine level. Then I got the Green NaturaLaser and used it in the same way and got immediate relief, but still the pain came back. I know teeth have important connections to other body parts and looked on the tooth meridian chart to find that the spleen corresponded to my painful tooth. That made sense because for years I experienced a burning sensation in the spleen area from time to time. I shined the Green NaturaLaser on the spleen area and the tooth area. That did it! Real healing began and even though I only intermittently used the Green NaturaLaser on these two points over just a couple of weeks all swelling, pain and tenderness disappeared. It has been many weeks now and the tooth is strong and I no longer get that odd burning I used to get in the spleen area." -Lorraine E., FL
Frequency Disc and Hand Ache
"While at a movie recently my right hand started a deeply felt, very uncomfortable ache similar to an ache I had in that hand a few years ago (different place). It lasted for several hours and when I went to bed I thought that I would not be able to sleep. I wrapped a small 3.5″ disc on top of that hand, went to bed and fell asleep. I woke up during the night and there was no pain at all, so took it off. The next day I noticed that even though the pain was gone, the hand hurt when I pressed it against something (like opening a jar lid). That night I rewrapped the hand after lasering it and the following day there was no pain at all. Completely healed." – Jeannie S., PA
Frequency Disc and Hip & Back Pain
" Prior to being introduced to Zeropoint, I had developed severe hip/low back pain to the point it was keeping me awake at night. I placed a ZPG 8″ Frequency Disc under my bed and the very first night I experienced complete relief and the first good night sleep in months. I also discovered that I not only awoke with no pain, but a greater sense of flexibility. I was not stiff like I normally am and was easily able to sit on the edge of the bed and bend forward to pick up something on the floor." -Krista M., PA
Red Naturalaser and Wart
"I was babysitting my grandchildren last month, when nine year old Emma showed me a quarter-inch wart on her pointer finger. I got out my trusty NaturaLaser and turned both the blue and red lights on it for about 20 seconds. Her sister and I watched as the wart started shrinking as I worked. We were all amazed that it shrank so quickly. Later in the day I gave it a second treatment. The next week when I asked my granddaughter how her wart was, she told me that it had disappeared completely. I remember countless warts on my hands over the years, one at a time, that had to be burned off or chemically treated until they were gone. The NaturaLaser worked quickly and painlessly on Emma's wart. Thank you from both of us!" – Jeannie S., PA
Red NaturaLaser and Duck Injury
"We have many animals that come to our yard every day. We've had an unusual looking duck return repeatedly. One day he was limping quite severely. A closer look showed he had a nail sticking straight up causing quite a bit of pain. We used the red NaturaLaser repeatedly on his webbed foot while he ate some seed. When he came up the next day, the nail was still straight up but he wasn't limping. We used the NaturaLaser one more time. The next day he visited again, the nail was gone he was just fine! Everyone, including our animal friends, can be assisted with the ZeroPoint products!" – Robin G., FL
Intention Disc
"After reading about how others have responded emotionally to the Intention Disc I began reflecting on my use of this pendant. I wear my disc as a necklace every day to work.. I work at a hospital which is rife with patient drama, nurse/doctor/staff conflicts and inter-office politics. It can be a very emotionally draining and contentious atmosphere in which to work. I have even been the target of a fair amount of (unwarranted) character assassination. As I said, after reading about the emotional aspects of wearing the Intention Disc I began to realize how every day I've gone to work, somehow, even though I was initially feeling depressed, unmotivated or worried about what the day held and, except for a few of the worst days, I have been able to go in with enthusiasm and a smile on my face. I really do believe the disc helps me process my feelings and fortify me for the day. I do notice I feel stronger and more self-assured without there really being any other reason for this confidence other than I am wearing the disc." – D. Davis, KS
Frequency Disc and Muscle Cramp
"I wanted to share with you my most recent experience with the ZeroPoint 3.5″ frequency disc. During the night I was woken up with a very painful muscle cramp in my calf. I immediately grabbed the coaster I had nearby and placed it over the cramping muscle. Within 10-20 seconds I felt relief. The muscle stopped cramping and the pain subsided. I left it in place and fell back to sleep. When I woke the next morning I was unable to tell that I had had a muscle spasm at all. I was able to walk normally, which is not the usual experience I have after a leg cramp. I was quite amazed." – Krista M., PA
3.5″ Frequency Disc & NaturaLaser
"I recently was splattered by hot oil in the fry pan. In moments, my hand became bright red, swelling rapidly. The stinging started and I knew I was in trouble. I used the Red NaturaLaser for about 10 minutes, then the Green NaturaLaser on and off with the Red for about an hour. I slept with the 3.5 Frequency Disc through the night. The next morning there was no redness, no sting, and no swelling. I didn't use any other products! Proof for me!" – Robin G., FL
3.5″ Frequency Disc & NaturaLaser and Leg Injury
"My personal "miracle" with the 3.5″ Frequency Disc was the day my daughter accidentally dropped her scooter on my leg. The handle hit right between the muscle and the bone on my shin. It immediately turned an ugly purple color and the welt was as big as a tennis ball. I limped into the house and got the NaturaLaser and the 3.5″ Frequency Disc I did both till the pain was bearable. Then I wrapped the 3.5″ Frequency Disc in an ace bandage around my calf. I wore it like that most of the day. By night time the welt was almost 100% gone and the bruising was minimal. I wore it all that night and in 2 days it was gone completely" – Krista M., PA
Banana Aging Test and Frequency Disc:
"In March of 2009, an 8-day test was performed at a natural food store to determine the efficacy of using ZeroPoint Frequency Discs to increase the shelf life of fruits and vegetables.
Two pairs of organic bananas were selected from the same bunch. The two pairs were placed on the same metal shelf approximately 9 feet apart. One pair was placed directly on the shelf and the other pair was placed on a ZeroPoint 8″ Frequency Disc. Progress photos were taken to document the progression of the ripening and spoilage processes. At the end of the eighth day, the bananas on the shelf were showing signs of significant aging and bruising. The bottom edges of the bananas were flattened, the fruit inside was bruised, and the peels were starting to rot. They were no longer edible.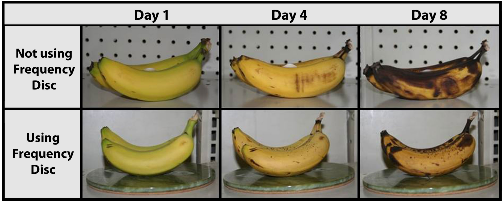 The bananas on the Frequency Disc were also showing signs of aging, although much less than the other pair. The fruit inside was not bruised and was still well within the limit of being tasty and edible." – Marvin C.
Frequency Disc and Produce
"Since using the ZeroPoint 8″ Frequency Discs in the produce section of my store, I have noticed a significant difference in the length of time it takes for fruits and vegetables to spoil. By spacing the Discs 10″-12″ apart, spoilage has been reduced by at least 50%.
Significant results have been achieved on various fruits and vegetables including bananas, pineapples, strawberries, blueberries, avocados, carrots, and cabbage. Results, however, can be achieved on any type of food or beverage product that has a tendency to age and spoil.
Given the current state of the economy, having a natural way to prolong shelf life for produce transfers to bottom line savings for my store." – Marvin C.
ZeroPoint NaturaLaser Speeds Recovery for Handicapped Patients
"I am finding that this stuff becomes more interesting by the second! I had a very good session yesterday with my handicapped client ( got a result in 20 minutes that would have taken an hour to obtain with JSJ (Jin Shin Jyutsu) alone!). And today I had another super impressive result with my comatose client: it seems that his shoulders relaxed much more in less than 1/2 hour. It made a big difference. Now I have to get info from his family today and find out if the results "persisted". If they did, I really must get your disc ASAP." – Practioner Vera R., PA
Intention Disc Clear Toxic Information from Cancer Diagnosis
"I used the intention disc with muscle testing to release the fear from the diagnosis of cancer. My Client agreed to the traditional chemo and radiation treatment and had tremendous fear wrapped around the whole process. The process of using the disc removed the emotional component so she could focus on the healing. Much less stress… She also used the intention disc on the site of the first treatment, relieving the memory. The Green NaturaLaser was then used on the big 4 as well as the site of chemo. Her whole being shifted and relaxed." Practitioner Robyn G., FL
Sodalite Window Pendant and Intuition
"My amazing experience with the new Sodalite Window Pendant! I had a massage client who was wearing the new pendant. While undressing, he put the Sodalite Window Pendant on a table. About 15 minutes into the session and working 2-3 feet away from the pendant, I intuitively received some health related information about my client. I asked my client if the info was correct and he confirmed it was! A few minutes later this happened again, this time it was past life related and again confirmed by my client! This continued throughout the session several times. From my experience, the Sodalite Window Pendant definitely enhances intuition…and I wasn't even wearing it!!" – Paula C., GA
Red NaturaLaser
"My 77-year old father fell as he was pushing himself up off a low sofa, and hit his head on the wood between the panes of the French door on the sun porch. His head was bleeding profusely with a two-inch gash. I used the red NaturaLaser 2-3 times a day on the cut area. Within 8-9 days, the gash COMPLETELY HEALED. No scar, no pink line, no nothing! People who had seen it on the first and second day could not believe how quickly the cut disappeared." – Penelope T., MD
Intention Disc and Anxiety
"I have been unemployed for 1 year and the financial stress, anxiety and fear of the unknown has been increasing by the day. I have a difficult time sleeping – tossing and turning – I am lucky if at best I get 2 or 3 hours of broken sleep. I discovered on the recent Current a new way to explore my Intention Disc to clear toxic frequencies from my subconscious mind. We know that water stores the memory of negative messages and since the human body is approx. 80% water – give or take – it stands to reason that our body's cells and tissues and organs also store the memory of negative messages. Last night I went to bed with my Intention Disc in hand and every time my sleep was disturbed and I was startled awake in a panic by a negative thought creeping in to my subconscious, I asked for my Intention Disc to release all incoherent toxic frequencies that were not conducive to my overall physical and emotional health and well being and I returned to sleep like a baby, since I don't remember when. With thanks, gratitude and appreciation for the info on the Current and the testimonials on the Thurs night calls for sharing new ways to use the ZP tools. Like this, our collective consciousness is raised and this allows for us all to live our best life each day! God Bless all of you folks at ZPG" – Margee B., FL
Green NaturaLaser and Head Injury
"At the end of an expo in NY the booth next to us was dismantling their elaborate setup, consisting of a metal construction for overhead lights and background panels. In the process, the top beam came down by accident, landing square on the top of my husband's head. He was hit pretty hard. I helped him sit down and immediately started working with the new, Green NaturaLaser on the area of impact. I then, moved to the brain stem and other areas that would obviously been impacted. A pranic healer who was also helping said that he could see the blood gathering inside the head which would have caused bruising. Within a few minutes the blood dissipated again. He also could see mineral frequencies coming out of the Green NaturaLaser beam as I worked on my husband. The pranic healers ended up being very excited about the ZeroPoint technology and how it fits in with their understanding that tools will eventually take over the need to do manual energetic healing. Needless to say, my husband was fine. He did not feel dizzy, had no concussion, not even a bump, the least of which we had absolutely expected. Thanks to ZPG!" – Faye B., ME
Pendant, Frequency Disc & NaturaLaser and Cyst
"I developed a cyst on my right wrist within days after being introduced to the Zeropoint products. I immediately began using the NaturaLaser on it a few times a day. It did give immediate pain relief and increased mobility to the joint. I also began to incorporate the 3.5:" frequency disc and the pendant into the treatment. It took a couple months, but I am now cyst free without the need for surgery" – Krista K., PA
Pendant and Morning Sickness, Heartburn
"Thank you Lynne for your generous gift; the ZeroPoint pendant that you gave me for my birthday works like magic and is helping me a lot. I started wearing it as soon as you gave it to me and I noticed that I did not get the morning sickness or the heart burn that I used to get every morning. ZeroPoint pendant overpowers the pain and discomfort of the frequent heartburn that I experienced for years. Also it helped Shereef to ease the pain of an awful headache that he had" – Ziena O., PA
Pendant & Red NaturaLaser and Brain Injury
"I have a friend who had suffered a brain injury as a result of a fall off from a cliff 3 years ago. Her recovery has been slow and painful. Although her physical body had been doing much better, her less than positive emotional body and thinking had been hindering her forward progress. She was doing the best that she could all things considered. I introduced her to the ZeroPoint pendant and the NaturaLaser, both of which she knew she needed. After just 3 weeks of wearing the pendant and using the red laser on her body it's as if she is a new woman. Her thinking and her emotions are much more positive now and her world is a much more beautiful place. I have been witness to these changes and now believe that I am getting my friend back and my heart is thankful for her return." – Aria J., MN
Pendant and Fibromyalgia
"I have had fibromyalgia for 6 years. I wore the pendant for 2 weeks and didn't even realize the pain had gone away until I gave it to my sister for a week. The fibro pain came back the first morning I was without it. I was amazed!" – Barb S., MN
Red NaturaLaser, Frequency Disc and Spina Bifida
"I have a slight case of Spina Bifida in one vertebra in my upper back. I have had dull to sharp pain in the area all of my life. My lower back pain had already improved dramatically from using the NaturaLaser, and the upper back pain had been such a presence in my life for so long, that I didn't consciously notice it as much, especially when it was more of a dull pain. I had the ZeroPoint products for a few months, and then one day I was cleaning house, and really noticed that pain more as a stabbing back pain. So I got the 3 1/2 inch frequency disc and put it in the back of my sports bra. Within 5 minutes, the pain was gone, and for the first time in many years, I was able to clean house the whole day!" – Lisa L., FL
Pendant & NaturaLaser and Dental Work
"I had some dental work done, 3 hours of drilling and the removal of old crowns and mercury. I had just got the Pendant and NaturaLaser Pointer. I lasered the area and wore the pendant. I had absolutely no pain. The next day I never knew I was at the dentist" – Gina C., MN
Sodalite Window Pendant and Vocal Cord Damage
"I had a tumor removed on my vocal cords in 1991 leaving me with one side paralyzed. In Aug 2008, I suddenly lost the vocal quality that remained – I could hardly croak out more than one audible syllable at a time. I wore the Sodalite Window Pendant 24/7. I also used it to massage the throat area throughout the day and often times it would "stick" like a suction cup on a particular area around my vocal cords. Within one weeks time my vocal quality and vocal strength had improved dramatically and over the following two months, my voice continued to grow remarkably stronger by the days and weeks that passed that…and no more choking, gagging, coughing and clearing my throat! I am God blessed to experience firsthand the healing energy of this awesome Sodalite Window Pendant!" – Margee B., FL
Naturalaser and Tongue Sore
"I woke up this morning with huge sore on my tongue. It was difficult to swallow. I grabbed the NaturaLaser pointer and placed it right on the sore. Not even 2 minutes and I could tell it was not there anymore. How happy I was to begin the day without discomfort!! Thank you, for ZeroPoint Technology." – Yung Bok J., MI
Frequency Disc & Earth Hearts and Long Auto Trip Relief
"We have driven from South Florida to my father's in North Carolina about 6 times since my daughter was born. Every time, we have stopped and spent the night somewhere around Savannah as that was about as far as my husband would want to drive without resting. This summer, he put the 8 inch frequency disc behind his back, and I put an Earth heart on the display dash next to the GPS. We drove all the way through without having to stop for the night both ways. That saved us a couple of hundred dollars, and gave us more time with our family!" – Lisa L., FL
Pendant & Naturalaser and Stiff Neck
"I was in a store on Saturday and I noticed a guy in front of me in line…he was trying to look behind him but with difficulty. I asked him if there was a problem with his neck. He responded yes…he was not able to move his head properly. I asked him to wait for me. After checking out, I went over to where he was, gave him my pendant and told him to place it where his neck was stiff. I lasered the back of his neck. Within a few seconds he could completely turned his head around." – Sophia M., FL
Sodalite Window Pendant and Focus, Speech
"I was having a conversation with my 77 year old mom and noticed she was having trouble completing her sentences. She said she had trouble with that after she takes a particular medication. After a few minutes of wearing it, she said she felt more focused and clear and no longer had trouble completing her sentences." – Thea J., NJ
Green Naturalaser and Skin Rash
"I had a raised patch of red itchy skin on my left calf that bothered me off and on for several months. I applied the red laser and disc to relieve the itching each time it occurred. Last July, I had to opportunity to try the green laser on the spot. I shined the green light for about 2 minutes on the area. The itch was immediately relieved and the red raised surface disappeared a few minutes later. It's been 3 months now and the red patch and itch has not returned." – Lorraine E., ME
Intention Disc and Neck Injury
"My first time holding the intention disk was indeed a "wake up call". I immediately felt a sensation in the back of my neck, rising up and over my head. Kind of like an 'energetic pop'. Then a feeling of relief and alignment. I had experienced a traumatic neck and back injury last year, causing my Atlas to be misaligned. I had a treatment a few years ago to align it, and I could tell it was out. What relief! In just a few moments my highest intent for healing took place. I am truly grateful." – Paula C., HI
Sodalight Window Pendant and Intuition
"When I am wearing the Sodalite Window Pendant, there is a marked improvement in my physic ability – words that others are saying come to my head and even mouth before the other person says them, my phone rings and it is the person I was just thinking of, and myriad synchronicities occur. These are the type of things that already occur here and there, but when I am wearing that pendant, especially for at least a few days in a row, the number of these occurrences is markedly more frequent." – Lisa L., FL
Frequency Disc and Wrist Pain
"I started using the small disc under my wrist when I used the mouse for my computer. It took about one day and the pain continued to diminish until it eventually went away completely! Typing as much as I do, this discovery is a true blessing. Now I use the small disc in that matter as a preventative measure." – Doreen Z., FL
Red Naturalaser and Mole
"I would like to testify to something I have had on my face for years. I have had a "mole" on the left-side of my chin for about 30 years. and it was always in the way whenever I shaved. Several times I have cut it open with my razor. Well, I decide to use the laser on it twice a day for five days straight; I was astounded when at the end of the five days the mole that was about 5mm had shrunk down to half its size! And to this day, I am still using the laser on it and it is slowly shrinking." – Dr. John M., FL
Pendant and Cramps
"My son gave me a pendant in April of this year and I wouldn't take it off. I immediately felt a sense of strength. I had cramps in my feet for many years and would wake up in the night with charley horses and would hop around the room trying to release them. They have completely stopped since the day I put on the pendant. Thank-you ZeroPoint!" – Kristen P., MI
Frequency Disc and Grapes
"I went to some friend's house for dinner, and my friend was getting some grapes out. She tasted them, and said they were sour and she was going to throw them out. I always have a disc in my car, so I asked her to put them in the sink with her filtered water. I got the disc and put them into the water with the grapes and left them for 10 minutes. I had her retaste them, and they were delicious!" – Lisa L., FL
Red Naturalaser and Mouth Soreness from Dental Surgery
"Two years after having dental surgery my pallet was still very tender. I started lasering my mouth four to six times a day for about a minute and the sensitivity went away after only about two and a half weeks. Now I can eat anything I want with no pain." – Irma C., ME
Pendant and Bedwetting
"Our 8 year old premature son has an underdeveloped bladder, causing periodic bedwetting. The beginning of this year we purchased a zero point global pendant for him. He wears his pendant of choice day and night. Along with his teacher, we began to notice he was calmer, less distracted and able to focus for longer periods of time. No more bedwetting to date. It is so encouraging to see him notice the difference." Kim A., NV
ZAP Water System and Eczema
"For years I have had very dry skin and eczema. I have consistently used dermal lubricants of all sorts to maintain a measure of hydration. My husband and I acquired our ZeroPoint Global water bottles in May 2009. As I began drinking water (60-70 oz. per day) exclusively from my water bottle–over the next several weeks, my skin became notably softer, less cracked and suppler. The sun damage noted on my husband's face has lightened in appearance. We are enjoying the effects of hydrated skin." – Kim A., NV
Zero Point Water Bottle
"Have been using the ZAP Water System for about 6 months and I'm amazed at how clean the water tastes. Our water district issued a boil order that lasted for 3 days due to a water main break. I ran the tap water from the kitchen sink and put the water in a clear glass to see what it looked like. It was disgusting and had a murky look to it. I put that water in the Zero Point Water Bottle and was shocked to see it come out crystal clear. Even though we were under a boil order I put the tap water in the ZAP bottle and drank it without any worries." – Rhonda S., MO
NaturaLaser and Blood Microscopy
"A few weeks ago we tested people's blood with live blood microscopy, a method where a drop of blood is placed directly under a dark field microscope. The test gives immediate insights on the quality of the blood and the overall health of the person.
The results below show my husbands blood before and 5 minutes after having one sip of water lasered for only 10 seconds with the ZeroPoint NaturaLaser. The blood cleared up completely from sticky, oval-shaped, doughnut looking red blood cells with lots of debris in the serum to nice round red blood cells in a clean serum. We have worked with high quality food supplements for many years, but have never seen such a dramatic change in such short time.
Before: Live blood microscopy of a 51 year old male with no major health issues. No supplements were taken for 24 hours before the test. Results show some sticky blood cells, some doughnut-shaped cells (yeast from sugar), some misshapen cells, and some debris in the serum next to white blood cells.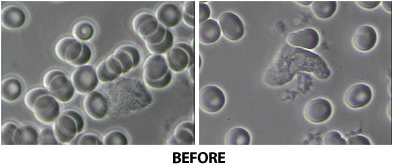 After: Live blood microscopy of the same 51 year old male 5 minutes after drinking one sip of a glass of water which was lasered for 10 seconds with a ZeroPoint NaturaLaser. Results show perfect quality red blood cells and perfectly clean blood serum. AMAZING !!! "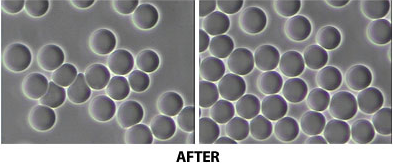 – Faye B./Institute of Feng Shui, ME
NaturaLaser and Sore Throat
"I enjoy the applications of Zero Point technology very much and have had many testimonies to share. I have been particularly creative with the Naturalaser. When I felt a sore throat coming on, I immediately reached for the laser and placed it as far back in my throat as possible, using first the blue light and then the red. It felt instantaneous with no further discomfort the next day. I have subsequently heard other friends trying this and they have also reported freedom from potential sore throats." – Kadea M., CA
I WAS WRONG!
"I admit I was a total skeptic of the ZeroPoint products. After watching the tests and demonstrations, I felt as though they were less than scientific. Then, I read in some of their literature that a person sitting in an airplane receives 60 times the EMF's as holding a cell phone up to their ear for the entire time of the flight. I was flying on business every week and I was totally worn down at the end of every flight. I bought a ZeroPoint Pendant and flew for 5 hours the next day. I was amazed at the difference in the amount of energy I had when I arrived at the other end. Thanks to ZeroPoint Global for this amazing product AND for saving me money on extra hotel nights on my business trips!" – Rick F., IL
Pendant & Coaster and Hip & Back Pain
"I started using the pendant and coaster and within days the hip and back pain I've been having for over a year went away. In addition, I felt a lot more energy throughout the day. I've been diagnosed with "Usher Syndrome" which causes hearing loss and night and peripheral vision loss. After applying the Coaster on my eyes for a period of a few weeks I've noticed a definite improvement in my night vision!! On a side note, I've placed the ZeroPoint Plate in my refrigerator and it's keeping our food fresh for a longer time. I'll be purchasing additional pendants for my family!" – Deepa C.
Pendant and Headaches
"I awoke one morning recently with the most incredible headache. I am not prone to headaches so this shocked me. In fact it was so severe I considered the possibility of an aneurysm. I was concerned about movement. I have a hematite Pendant. I placed it on the most intense spot which was on the right side of the forehead. It stuck tight. I left it there until it relaxed. Then I moved it to the throbbing side on the left until it released. Then I moved it to the center. The entire process took maybe 1/2 to 3/4 hour. I noted the headache was entirely gone. I breathed a sigh of relief and got up and went about my day.
My second testimony is about the Coaster. I had, to this point, used it under my water glass, but my friend, Joyce Johnson, recently suggested using it for pain relief. It was the night before Christmas…. ahem…..and I was wrapping packages, many of them. I was by this time way overtired and stumbled over a blanket. My foot became twisted around the fabric and I went down. My second toe felt like it had been ripped out. Pain shot through me and it felt certain I had broken at least one toe. No time to go out on Christmas eve, that is for sure, and not done with my work, I limped to my room for my Coaster, thankfully, just across the hall.
I placed the cool Coaster against the bottom of the ball of my foot and put on an extra-sized sock. Then I placed my Pendant on the top of the damaged toe. I slipped my foot into a loose slipper. The intense pain subsided. I was able to complete the job although hobbling around due to the pain of walking on a hunk of material 1/2 inch thick in my shoe. What I cared about was forward movement and the removal of pain. I kept the technology there all night. The next day the toe was indeed black and going into shades of red. However, I was able to have a great Christmas Day and have not needed to go to a Doctor for X-rays. The toe is losing its variety of colors and behaving well now." – Jo Sawyer R.
Coaster and Child's Fever
"I have two children 3 1/2 and 7 years old. I have used ZeroPoint Technology successfully for many countless things. One example was with my youngest who had a high fever. I used a technique with two ZP Coasters I learned from a chiropractor who is using Zero Point Technology in his practice. My son's fever went down 2 points with the first application and 2 more points with the second application. I was thrilled. My 3 1/2 year old is very hyper, but when I give him a ZP Plate to hold he stops bouncing off the wall and calms right out. Once one of my sons was car sick and threw up. I handed him my Pendant to wear. Within moments he was just fine, no more nausea. The road continued to wind and curve for another 30 minutes. When we stopped, he just jumped right out to play. A most incredible demonstration occurred when one of my sons became ill. I took him to the doctor and it was determined that he had puss and fluid in his ears and was congested. She sent us home with antibiotics. I thought I would try the Naturalaser first. For two days, I used the laser three times a day for 15 seconds each. I used the laser in his ear canals and nostrils, behind the ear, and over the glands in the neck. Two days later, I returned to the doctor who quickly confirmed that the ear infections were COMPLETELY gone. Both of my children love the technology. They always want to sleep with the ZP Plates under their pillows. If they feel ill, they immediately ask, 'Mommy where is my plate?' I highly recommend using ZeroPoint products with your kids.
I also have a friend who was having lots of problems with living near power lines. I suggested she try my ZP Plate but she was very skeptical. But, after chronic fatigue, high blood pressure. headaches, she finally agreed. Right away she felt more refreshed, had more energy, and her headaches lessened. Her doctor confirmed the power lines were creating interference in her body which the ZP technology was helping to relieve.
And finally, I am a nurse working in a very busy, demanding, ICU (intensive care unit). I use the Coaster on my back in various spots. I just rub the Coaster until it sticks somewhere usually at a point of a lot of pain. The Coaster stays stuck in place the entire 12 hour shift even through moving patients and giving baths! When I take it off at the end of the day I do not have any stiffness, tightness, or pain, in my neck or back. What a God- send. I could go on and on with testimonies of friends and family, but the bottom line is that these products are awesome and a MUST HAVE! Thank you." – Lisa S., CA
NaturaLaser and High Blood Pressure
"I have dealt with high blood pressure for numerous years. Recently, it had gotten so bad I believed it was time to write my final wishes for the benefit of my family. I had called my son to my house on a morning when my blood pressure was extremely high-something like 225 over 119. While he was there, I had the thought of asking him to use the Naturalaser across my lower back and up and down my spine. He took a few seconds to do so and then I retested myself. My blood pressure had dropped considerably to 160 over 80. I asked him to use the laser again and retested. My blood pressure was normal! I have noticed in the weeks to follow that my blood pressure continues to rise, but as long as I use the laser every time, it is controlled! My only task is finding someone to run the laser up and down my spine as I live alone, but if that is the only challenge, I guess I can overcome that one! Gratefully" – Reuben S., NC
NaturaLaser and Eczema
"Hi guys, I just wanted to tell you about my recent surgery and the results with zero point. Being a skeptic, but forced to be in bed for a couple of days I figured I would use the Power Plate to see the results. I had a hernia operation; the traditional way, involving an incision in the right mid abdomen and a net to the bottom groin area. It was ambulatory and I lay in bed with an ice pack and the power plate on the incision for only one day. I had pain for only 2 days, but kept the power plate right on it. No leakage, clean bandage; not a single bruise, ever. And I was up and out of the house 3 and a half days later, sitting through a movie and having dinner at a restaurant. A week and a half later and my scar is hardly visible and not even a light shade of pink. Judging from other surgical interventions that I have had this is incredible without a doubt. After this I have even gone beyond my embarrassment about pulling out my laser pen in public places. Thanks" – Spiros V.
Coaster and Cracked Rib
"A friend of mine cracked her rib. I loaned her one of my coasters and it immediately stuck — for a week. After a week the coaster does not stick any more but the pendant does. It has saved her from a lot of pain — no pain unless she had to take it off for some reason. It usually takes her about 6 weeks to recover from a cracked rib. She's had a cracked rib three times in the past. This 4th time has definitely been the easiest!" – Carol
Pet Testimonials
Oil Vera & Fleas
"My chihuahua became unresponsive to any flea treatment — Frontline, Advantage, Comfortis. All of these products seemed to worsen his health and further exascerbate his ability to ward off fleas. Aria suggested that I apply Oil Vera Wellness Sollutuion, Mint Matrix and Citrus Silk dissolved in a small amount of water and spritz it over his fur while rubbing it into his skin. I was skeptical and wondered if he would tolerate the smell. Surprisingly, he calmed down and seemed to enjoy having the products put on him. In about ten minutes I looked and there were NO little black hopping things." – Joanna R., USA
Oil Vera, NaturaLaser & Pet Healing
"I have a small Maltese Dog named Tulip who is 5 years old. Tulip was born with bad teeth and bad breath due to poor breeding. Her breath is so bad that you can smell it through her body. For the last week, I have been using Citrus Silk on her gums. I am happy to say that it has helped with her bad breath and also has encouraged Tulip to have a better appetite. I think that her sore gums have inhibited her from eating. I also noticed that a tooth that was very loose has strengthened. I also use the NaturaLaser on her in conjunction with the Citrus Silk. I plan on continuing this treatment as part of her healthcare plan.
My other dog Colby Jane is 11 years old, also a Maltese and has health challenges. I am starting to treat her with Citrus Silk and the NaturaLaser . What I notice with the NaturaLaser is that as she is sleeping and I shine it on her, she will wake up immediately. She has responded with a little more friskiness, and I am hoping that with continued use she will gain her strength, and it will help with her confusion after experiencing some past seizures that have taken their toll on her.
I love ZeroPoint tools and will always use the tools and Citrus Silk on all my animals." – Pam D., FL
Pets & Intention Disc
"I used the ZeroPoint Intention Disc on Minnie, a tiny daschund that came from a physically abusive home. The dog would squeal and bark every time anyone would walk anywhere near her. I set the intention to remove any negative memories or images from the dog and held the disc on her back for several minutes. I repeated the process on three separate occasions over a few months. Her owner says she notices a huge improvement in her dog. I definitely notice the difference since she used to always bark at me and now, she runs up to me and lays on her back by my feet to be petted." – Velvet C., RN