Pain Relief and Wellness Oil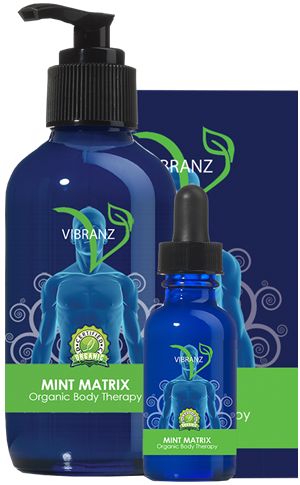 Vibranz by ZeroPoint Global Mint Matrix Oil Vera takes natures best oils and makes a powerful all in one pain relief and wellness Oil. The ingredients alone make Mint Matrix a powerful pain relief and wellness oil, but ZeroPoint Global has added Human Blueprint Frequencies that proving matching frequencies of the body's organ and endocrine system.
When combining natures therapeutic properties and using Vibranz by ZeroPoint Global's infusion technology, Mint Matrix becomes the best pain relief and anti-aging oil on the market.
Mint Matrix Oil Vera is a 100% Organic product that helps bring your body into a perfect state of balance. The blueprint frequencies in the Mint Matrix match frequencies found in the human body. When applied or digested, your body will begin to resonate with the frequencies from the mint matrix and return your body to a balanced state. A body that is in balance will properly protect and heal itself.
Mint Matrix is a 100% Certified Organic, Fair Trade when available product that restores cellular balance from the outside in, and from the inside out!
A Closer Look At The Ingredients

Aloe Vera plant is known to restore skin. It is also quite effective for treating sunburns. In addition, it benefits in curing Arthritis. Aloe Vera is known to possess anti inflammatory properties. It is able to penetrate quickly and deeply into the skin making it a wonderful moisturizer. Aromatherapy uses Aloe Vera Oil as the base oil in it's oils. Aloe Vera oil works wonders on stretch marks and scars. Aloe Vera oil provides several health benefits for which it is the leading ingredient in Citrus Silk Oil Vera.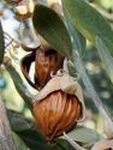 Jojoba Oil promotes healing in many ways. Jojoba closely resembles that of the skin's natural sebum, so it is easily absorbed so it discourages the growth of some bacterial and fungal microbes that attack the skin. Jojoba works great in healing acne cause it reduces the production of oil that produces acne. Jojoba oil contains several nutrients, such as vitamin E, B complex vitamins, and the minerals silicon, chromium, copper, and zinc. Iodine is a key ingredient in Jojoba oil giving it's ability to ability to fight against bacterial and fungal infection. Jojoba also treats canker sores, cold sores, athlete's foot, and warts.

Peppermint Oil is used in a variety of ways to promote good health. Peppermint oil is good for indigestion, removing gas, heart burn, relieving motion sickness and upset stomach. It has antiseptic properties, and is useful for dental care. Respiratory Problems including nasal congestion, sinusitis, asthma, bronchitis, cold and cough. Peppermint Oil is used for Nausea and Headache, Stress, Irritable Bowel Syndrome, Antispasmodic, Urinary Tract Infection, Pain Relief, Immune System, Blood Circulation and is used in total skin care.It is further believed that peppermint oil is useful for treating cancer and tuberculosis.

Spearmint Oil has numerous uses when it comes to health. This oil works well as an anti septic for wounds and ulcers, protects them from septic and other infections and helps them heal faster. This oil works well as a Anti Spasmodic(relaxes nerves, muscles and gives effective relief from spasmodic coughs and aches). It works as a Disinfectant (It can help get rid of internal infections and external infections) and Cephalic(it helps cure headaches and other stress related neuro-problems). Problems with menstruation's, such as irregular periods and also keeps away menopause and also gives relief from certain symptoms associated with menstruation's like nausea, fatigue, pain in the lower abdominal region. Helps cure asthma and congestion, being a decongestant; gives relief from fever, flatulence, constipation, sinusitis, acne, gum and teeth problems, migraine, stress and depression.

Argan Oil helps in reducing the wrinkles and softening the skin. It also increases the elasticity and tightening of the skin. Argan oil is a great anti aging oil because it regenerates the skin by revitalizing the cell functions that prevent early skin aging due to sun, pollution, stress, smoking, etc. Not only is Argan a great skin care product, but it helps the inner body by reducing pain from rheumatism and arthritis. It is also great for the cardiovascular system by protecting it.

Structured Water Vibranz by Zero Point Global uses Structured Water in all their essential oils. In structured water you have micro-clusters, smaller molecules that allow the body to more effectively absorb it. All incoherent energy is removed from the water before it's structured.
Mint Matrix Benefits
Vibranz by ZeroPoint Global's Blueprint Frequencies contained in Mint Matrix provide matching frequencies for organ, endocrine and other systems, bringing the body into energetic balance. Essential oils and extracts from plants and trees have been used for thousands of years for their therapeutic properties. The molecular structure of many essential oils is tiny enough to pass through the blood brain barrier. Many experts say essential oils deprogram misinformation stored in DNA and then reprogram correct cellular information.
Balances muscle-skeletal system and aligns the spine

Replaces toothpaste

Reduces plaque, tooth sensitivity and gum disease

Relieves upset stomach

Balances left and right brain

Promotes sense of well being

Supports immune function

Restores cellular communication

Balances pH

Soothes insect bites

Tastes great and improves quality of food and liquid

Eliminates toxins
Mint Matrix Suggested Uses
Apply to top of head, collarbone hollow, bottom of feet and ankles for energetic balance

Helps break down plaque and calcium deposits in mouth

Freshens breath, particularly if you swallow after brushing

Use on chest for congestion

Put 1 drop in navel to reduce menstrual cramps

Relieves upset stomach, gas and bloating; use 2-3 drops in mouth or add to water and drink

For headaches use 1 drop on temples and back of skull

Use for indigestion and heartburn; use 2-3 drops in mouth or add to water and drink

Use for sore muscles

To shrink moles, apply to affected area

Use for infection or minor skin issues

Use for fungus, under the toenails for example

Apply 2-3 drops to back of the throat and swallow for sore throats

Use for bites and stings

Add 2-4 drops to any beverage for flavor and frequency enhancement

Apply to scalp to restore balance and reduce or eliminate hair loss and naturally encourage new growth

For polishing teeth, add baking soda to drop of Mint Matrix on toothbrush; rinse & expel, then add one drop under tongue
Using Mint Matrix Oil Vera
What Mint Matrix Users Are Saying
Mint Matrix and Back Pain
"My lower back went out again Sunday, April 25th and the shooting pain was about an 8. My back would go "out" each year when I work in my gardens and this time it wasn't as bad. I used the red and green lasers and did Matrix, Reiki, Yuen and had energy treatments. I got through the week teaching piano being very careful not to move too much Yesterday and today I was feeling better and I would say the pain was about a 3. During the Zero Point meeting tonight I tried to reach for something and felt the pain in the lower back… and a few minutes later my friend put a drop of the Mint Matrix on my lower back and I rubbed it in. Within a minute I attempted to get up out of my chair and there was absolutely NO PAIN at all!!!!! They said my face glowed with excitement. Here is it four hours later and no pain. I can bend backwards, forwards and it is like my L4 and L5 disk pain disappeared. When you experience an abrupt release of pain like this, you know there is something to these Zero Point Global products. You can be assured that I will continue to experiment with these oils and products. I am happy to be with the Zero Point Global Family! Magical Blessings" – Gloria L, MD
"In addition to using the Mint Oil Vera for gums and teeth with a remarkable decrease in the amount of dental plague and improvement in the reduction of gum pockets, I also used the Mint Oil Vera with great success to: ease the pain of a sore throat, opens stuffy nasal passages, overcome discomfort of an upset stomach." – Gloria H., CA
"Among the many amazing uses of the Oil Vera Wellness Solutions, I have personally found them to be wonderful in assisting in weight loss. Every day for a month, I took a few drops of the Mint Matrix by mouth in the morning and the afternoon, and applied the Citrus Silk to my hands and face every morning, and mixed one spray of the Citrus Silk into my water bottles throughout the day. I noticed that I simply wasn't hungry, and without the hunger cravings, I was much less likely to snack on fast food or drink sodas. With no major change in diet or exercise, in just one month I lost 17 pounds and am down two and a half pant sizes. More importantly, the weight came off and it's staying off! Thank you ZeroPoint!"- Brian Z., FL
Have A Question?
Contact Us
1-800-605-7122
Results may vary from person to person based on the imbalance. This information has not been evaluated by the FDA and is not intended to treat disease, support human life, or to prevent impairment of human health; for frequency, self-education and research purposes only. Please seek professional help with health issues.